Sunday, January 3, 2010

I am working on the year end/beginning column complete with Orchids and Onions parade. Nominations by readers for Chaos Manor Orchids, Onions, and User's Choice Awards are open until Tuesday night (January 5, 2010; call it midnight PST).

We have a once in decades cold snap in the East, and the duration of this cold wave is unpredictably long. Britain is facing one of the coldest winters in a century. Parts of Scotland have been covered by snow for three weeks. The prediction is that it will be even colder. That Anthropological Global Warming is certainly insidious. Happy New Year.

Most of us are in a state of shock as we contemplate 2009. I think this is particularly true of the independents who chose Obama and voted Democrat with the view that the Republicans had forfeited any right to rule, and this time it would be different: this would be Change We Can Believe In. That's particularly the case with younger voters, but there were a lot of older independents who thought Change ought to have a chance.

There are also droves of Republicans and Republican-inclined Independents who just plain stayed home -- more than enough to have affected both the Presidency and a majority in the House. Staying home was a vote for Obama, and most knew that; I suspect they too were hoping for Change We Can Believe In, as well as strongly believing that the Republicans had gone mad with their Big Government Conservatism. If we are going to have Big Government, shouldn't that be run by people who want and believe in Big Government, as opposed to those who reluctantly concede that we're going to have Big Government so we may as well Get Ours.

In any event, the numbers are in, and the Ones We Have Been Waiting For are now down in the polls and in public esteem, approval of Congress continues to fall, and the hopes of the American people are at a low and falling. Unemployment grows (but not as much as we predicted, so that's Good, right?) and will continue to grow for a while, but the rate of growth is down, and who knows, numbers of jobs may pick up again if we can only figure out how to get people to invest money in job creating businesses, only we're going to raise the taxes on small businesses and hand out health care entitlements and business will have to give those health care plans to employees and we can't tell you how much all that will cost, but it won't add to the deficit and we won't tax the middle class, because we don't call these new compulsory payments taxes because they are after all for your own good, and...

And I suppose that's a long enough ramble.

Next Fall's elections will be crucial. If there is no significant change in Congressional majorities, the signal will be that the American people will put up with the conversion of a society whose major benefit is freedom to one of entitlement -- in other words the establishment of Socialism. That's what is at stake, and make no mistake about it. If we are to Take Back Our Government and restore the republic, this may be the last opportunity, because once the new entitlements are in place, it will be extremely difficult to repeal them.

Then there's Climate Change, but we've had lots to say about that.

It's going to be an interesting year.

====================

There was a feature article in today's LA Times on Tina Brown and her on-line magazine The Daily Beast.

Her last venture, Talk, didn't turn out well:
After Talk tanked in 2002, she acknowledged, and not in a self-pitying way, that she was immune to the near-universal delight that ensued because she'd spent the magazine's wobbly 2 1/2 -year tenure swimming in a "howling sea of schadenfreude."
After our walk this afternoon I went over to the Daily Beast to have a look; I confess it's not only my first trip there, but in fact I hadn't heard of it before, or perhaps I had and didn't remember it; but since this is what is supposed to be replacing magazines, and it's edited by one of the most successful editors in magazine history, I thought it very much worth a look.
I can't say it's going to be my cup of tea. It's not just the content, which is liberal but not unrelentingly so. One problem for me is that it seems mostly dedicated to videos. I don't have time to watch a lot of videos. Few have enough content to justify the time needed to watch them. Britt Hume's remarks on Tiger Woods are interesting -- I've been a bit of a Britt Hume fan since the days when we used to lunch together in the press room at COMDEX and I generally find his reasoning quite sound -- but the actual points made could have been made in a few hundred words that I could read in well under the time it takes to watch that.
I did find some essays, and from one I learned about the Obama Administration
This presidency represents not a traditional ideology but a new politics that mirrors the rise of a new, and potentially hegemonic class, one for which Obama is a near-perfect representative.
That's a fairly interesting observation. I suppose it might be true, but I suspect not: I don't really think that everything is different now that The One has taken the oath of office, thus rendering resistance futile. I am still -- possibly unreasonably -- of the opinion that rational discussion is important, and that Cap and Trade and many of the other policies of this administration are not rational, but are being carried not by any coalition but by raw political power. Sometimes that is necessary: the 13th Amendment was not adopted through rational discussion, and in fact couldn't have been adopted at all in the 1860's without the Civil War and Reconstruction. It was rammed through and ratified by admitting a newly accepted state that had not the population of a large village, and enforced by military force. I do not believe that Cap and Trade, or Health Care Reform, or Immigration Reform have the moral supremacy that the slavery issue had, although it appears that Obama's justification for imposing his will in those areas is "Guess what, I won."
The Constitution tried to establish transparency and subsidiarity as the major principles of government. We have long ago left most of that behind (the Civil War Amendments being the usual justification) ; perhaps we will dump the rest of it, and go to a national Socialism. That doesn't seem inevitable to me.
In any event, I can't tell you if The Daily Beast is a harbinger of the future of magazine publishing. It is said to have a large on-line circulation, but has yet to make money.
=================
On that score, my thanks to all those who have recently subscribed or renewed their subscriptions. As I am sure I have told you many times, this place doesn't operate on advertising: it's on the Public Radio model. It's free, you don't get socked with ads, and I try to keep the subscription appeals short. My thanks to all of you patrons of the arts...
================
On "anomalies": the point of using "anomaly" or difference data is to compare January with January, June with June, and so forth. Exactly what you average can vary and that will affect the actual results, but the concept is proper. An anomaly of zero means that there is no change: these data are substantially the same as the average for some longer period of time.
One thing concerns me.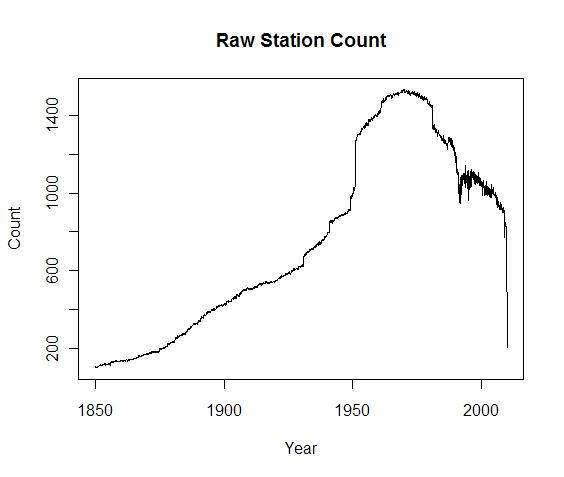 I have no idea why the number of stations reporting has fallen to pre-1900 levels. I am sure some0ne more familiar with the techniques can explain.


This is a day book. It's not all that well edited. I try to keep this up daily, but sometimes I can't. I'll keep trying. See also the weekly COMPUTING AT CHAOS MANOR column, 8,000 - 12,000 words, depending. (Older columns here.) For more on what this page is about, please go to the VIEW PAGE. If you have never read the explanatory material on that page, please do so. If you got here through a link that didn't take you to the front page of this site, click here for a better explanation of what we're trying to do here. This site is run on the "public radio" model; see below.
If you have no idea what you are doing here, see the What is this place?, which tries to make order of chaos.
If you want to PAY FOR THIS, the site is run like public radio: you don't have to pay, but if no one does, it will go away. On how to pay, I keep the latest HERE. MY THANKS to all of you who have sent money. Some of you went to a lot of trouble to send money from overseas. Thank you! There are also some new payment methods. For a patron subscription click here:
For a regular subscription, click here:
For platinum subscription:
If you subscribed:
CLICK HERE for a Special Request.

If you didn't and haven't, why not?

If this seems a lot about paying think of it as the Subscription Drive Nag. You'll see more.

If you are not paying for this place, click here...

For information on COURSE materials, click here
===========
===========
Strategy of Technology in pdf format:
For a PDF copy of A Step Farther Out:
For the BYTE story, click here.
Search: type in string and press return.
The freefind search remains:
Here is where to order the nose pump I recommend:
Entire Site Copyright 1998, 1999, 2000, 2001, 2002, 2003, 2004, 2005, 2006, 2007, 2008, 2009 by Jerry E. Pournelle. All rights reserved.