Sunday, August 1, 2010

Jerry:

I don't know if you have seen this article by Lee Harris about the Tea Party, but I find it very thoughtful. I picked it up through a link at Instapundit. Harris contends that the Tea Party is not really trying to advance new ideas as much as they are trying to advance an attitude: "Don't tread on me." It is a backlash by average people with common sense against the elite decision makers who seem to have none.

http://www.hoover.org/publications/policy-review/article/5387

Harris wrote an excellent article several years ago about fantasy ideologies that is brilliant. In case you have not seen it, here it is:

http://www.hoover.org/publications/policy-review/article/6232

Take care,

Hugh Greentree

There is no real dilemma facing conservatives regarding the Tea Party movement. The situation happens often.

The Tea Parties are a populist movement. It is not particularly cohesive, and the very name -- an acronym for Taxed Enough Already at the beginning of the movement although it seems less used now -- says much of it. It is on a national scale very much like what periodically used to surface in local government: Good Government movements, generally referred to by politicians as "googoo's". Boss Flynn in "You're The Boss" (a book that seems to be nearly unobtainable but once was required reading for political science students) discusses this in detail. Such movements are powerful, but they don't generally change the system, because they are united mostly by fervor and have little organiation. They are powerful when the come into existence but they have no sustaining power.

That's the conventional wisdom, anyway. Now the Tea Parties are pretty well upset with Obama, and rightly so, but they don't have and don't intend to have any great agreement on the fundamental conservative principles. For example:

Edmund Burke said long ago

"To Provide for us in our necessities is not in the power of Government. It would be a vain presumption in statesmen to think they can do it. The people maintain them, not they the people. It is in the power of Government to prevent much evil; it can do very little positive good in this or perhaps anything else." http://mises.org/daily/867

Now this is a general principle, stated at about the time of the American Revolution. There are obvious exceptions: government responses in times of disaster come to mind -- and even the principle can be argued. Think of it as a vector, a default: government isn't likely to do this well. Is there not a better way that doesn't involve coercion? Tocqueville addressed this well: in America, particularly, "the associations" did much of the "positive" work that in Europe was assigned to government. From Burke's time onward the obligations of the Government toward "the deserving poor" have been debated, both in America and Britain. Recall that in England there is no objection to Government deriving obligations from religious principles; it is, after all, by law, a Christian nation with the Queen as the head of the Established Church. The came debates happened in the United States, but we are not allowed to use religious obligations in our calculations.

In both nations the principle of helping the deserving poor transmogrified into "entitlements" which have become monstrous obligations to the point where they are no longer discretionary spending and nothing can be done about them, even when they oblige all of us to pay enormous pensions to those whose job was to take money from the productive and hand it out to the non-productive, deserving or not. The notion that the Government cannot provide for us in our necessities and can do very little positive good seems to come from a long way off. The nature of what Government can and cannot do, and ought and ought not to do, is not even agreed on among all Conservatives.

Conservatives do not need for the Tea Party movement to embrace the general principle that by and large Government does little good. It does not need for the Tea Party to engage in debates at that level. At the moment it is obvious to nearly everyone that the Government has undertaken far too much, that it is not doing even what we all agree it should do very well, and that it is time for a change. We can all, Conservative, Libertarian, Jeffersonians and Hamiltonians, Federalists and anti-federalists, agree that we are Taxed Enough Already, and that we do not have Good Government; that it is time to turn the rascals out.

Until that is done, until we are no longer government by Creeps and Nuts and a system that generates positive power feedbacks, discussions of where we must go and what is best are not so important; but there will come a time when this sort of discussion is very important.

John Adams did not begin as Mad Dog Adams eager for revolution. He disapproved of his radical cousin Sam. But there came a time...

==

You wrote: "The Reagan people, Democrat and Republican, never coalesced into a party built on conservative principles, or indeed any principles as all. The lesson was, I think, that the nation certainly needs to rally those who have had enough."

It's possible they never will coalesce. Heinlein wrote this:

"Political tags--such as royalist, communist, democrat, populist, fascist, liberal, conservative, and. so forth--are never basic criteria. The human race divides politically into those who want people to be controlled and those who have no such desire. The former are idealists acting from highest motives for the greatest good of the greatest number. The latter are surly curmudgeons, suspicious and lacking in altruism. But they are more comfortable neighbors than the other sort."

I have a theory. The Catch 22 of politics is that the sort of person who thinks people should not be controlled is exactly the sort of person who is allergic to having political power. I have watched many good conservatives in politics simply decide that they have no desire to be in that club, and retire or otherwise fade away. Fred Thompson made a pretty big splash at first, but it was clear almost from the beginning of his short campaign that he didn't have any real urgency to be in political office. He's not the only example, either.

The people who live and breath to control others do have this urgency. In spades. If conservatives tend to follow George Washington's example, but liberals have a single-minded thirst for power, the rest is simple natural selection.

In short, the kind of people you really don't want to be in charge of things are exactly the sort who desperately want to be in charge of things. And the reverse.

I've speculated in the past that we might have done better over the years simply selecting our leaders by lottery. I'm not sure we could have done any worse. Haven't some of our greatest leaders been those who had leadership dropped on them instead of lusting after it?

Tom Brosz

But that is the point. By limiting the power that government has -- or by dividing that power among many jurisdictions and among many institutions -- you hope to make it less important. See Jefferson, here http://press-pubs.uchicago.edu/founders/documents/v1ch8s41.html .
"In questions of power, then, let no more be heard of confi-
dence in man, but bind him down from mischief by the
chains of the Constitution." http://www.questia.com/PM.qst%3Fa%3Do&d%3D76953750
There would have been no Republic had we not been blessed with Washington, Adams, Jefferson, Madison, Franklin...
=============
http://www.lewrockwell.com/reed/reed183.html
"Two ways exist of looking at WikiLeaks, the site that publicizes secret military documents and videos. The first is held self-interestedly by the Pentagon and by Fox News, the voice of an angry lower-middle class without too much education. These believe that Wikileakers are traitors, haters of America, who give aid and comfort to the enemy and endanger the lives of Our Boys."
"The other view, held usually by people who have some experience of Washington, is that the Pentagon is worried not about the divulging of tactical secrets, but about public relations. WikiLeaks doesn't endanger soldiers, insists this way of looking at things, but the war itself, and all the juiceful contracts and promotions and so on entailed by wars."
Fred has much more to say, but the above is probably the limit to my "fair use" quoting...
Charles Brumbelow
While I often agree with Fred, and I do not disagree that it is better to be open than closed as a society, there are legitimate secrets, and the names of those in the villages favorable to our cause is one of those secrets. Leaking high policy is one thing; fingering a village elder so that he and his family can be beheaded is another. WikiLeak drips blood.
============
The Roman Question
I know I'm not practical or even nice. A lot of that is your fault. You got me reading Roman history oh those many years ago. Now I ask myself what I call the "Roman question". How would the Romans have dealt with our seemingly impossible modern difficulties.
It came to me while watching a National Geographic or Science Channel TV show on the efforts to keep the Leaning Tower of Pisa upright. They showed a series of modern engineering miracles, all of which had failed. I wondered how it was that this tower that was built without modern machines and materials couldn't be repaired by all of the world's greatest engineers? So I speculated on how would the Romans long before the Renasissance would have tackled the problem. When you think of it this way you realize that there is no real problem at all, only a set of self imposed limitations that cripple us. All a Roman engineer would have to do would be to take the tower apart stone by stone, repair the foundation and put it back up again. A gang of unskilled slaves could do all it in a few weeks with nothing more than a pencil to mark the pieces for reassembly.
So what would the Romans do about illegal immigration? Barbarian agriculturists did cross the late empire's borders. The Romans killed them when they could. The sensible thing to do today - which is never suggested - is to bomb Mexico. We shouldn't have to build a fence to keep Mexicans out. The Mexican government should build one, to keep their people in, and they would too if we increased their motivation. But of course there is an even simpler solution that the ancients would have employed - slavery. We hear that these people are hard workers - OK, let's capture them and put them in barracks like those seen in the movie "Cool Hand Luke". There were plenty of chain gangs in America as late as the thirties for criminals and of course all illegal immigrants are by definition criminals. Don't send them back at least don't send them back until we've had them work for us for a decade or so. The problem evaporates like dew in the desert.
What would Scipio Amelianus do in Afghanistan? He might recognize that the mountains and high country were inhospitable to civilized troops. Salting that earth wouldn't be enough to deny it to the enemy. He would probably use anthrax. When there are no safe refuges for rebels, Afghanistan ceases to be much of a problem. This could be done by hand with troops in protective gear - no high tech needed. But unmanned aerial dispersion might be quicker. Eventually the spores would lose their effectiveness and would need to be renewed. Pundits always cite the mountainous geography of Afghanistan as the reason why it has so long been a source of violence. We could change that easily enough.
Domestically we are said to have out of control spending for entitlements. But do we really? The Romans had their own problems with the corn dole initiated by Saturninus and increased by Clodius. But Julius and Augustus both simply eliminated it it at least for a while by fiat. Obama has instituted rule by fiat again (executive order). His Republican/Libertarian successor could therefore simply abolish AFDC and/or public employee unions.
So how big are our problems today? I would argue they are minuscule, if they only exist because we choose to not adopt effective countermeasures available to us for millennia. Of course I don't really expect anyone to adopt my suggestions. It wouldn't be nice. But such a thought experiment does give you some perspective.
P
We have other means available to us. We have not the will. I do not regret that we do not have the will to slaughter and enslave our enemies; but that we do not have the will to build fences?
============
Afghanistan
so you are a bright guy and want to decide on Afghanistan?
Think again: http://www.bbc.co.uk/news/world-10726746 .......
There isn't much more in Europe or the US. "There are really very few places where you can learn Dari or Pashto. Dedicated studies on Afghanistan exist but are very scattered," says German expert Thomas Ruttig.

He speaks Pashto and Dari, and has been working on Afghanistan for 25 years. In a paper released this month, he writes: "There does not seem to be a comprehensive recent English-language book or article dealing with the types of Pashtunwalai (codes of honour) among Pashtun tribes in Afghanistan."
IMHO this is a key interview:
http://www.aan-afghanistan.org/index.asp?id=506
B.G.: The US military has realised by now that the Afghan society is a barely penetrable jungle – with its more than fifty ethnic groups, thousands of tribes, religious groups, mystical brotherhoods, mafia networks, village communities and nomads' camps, with the clienteles of political actors, the militias of the warlords, bands of robbers and urban neighbourhoods, plus marriage alliances, professional guilds and internationally networked trade and bazaar structures. In such a jungle, even the most gutsy rambo with his high-tech gear is quickly lost. Drones with cameras, GPS systems or Recce Tornados [German military reconnaissance aircraft] are not of much help there – but perhaps the ethnologist who goes into the field armed with a note pad and a pen and who has developed methods to permeate such social undergrowth.
Commentary by Thomas Ruttig on leaked documents:
http://www.aan-afghanistan.org/index.asp?id=937
uwe
=============
A Clean Desk Is The sign of an Idle Mind!
Saw these photos on the Internet about a person's mind and his desk... Here are a few samples.........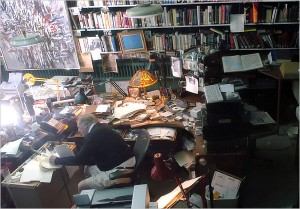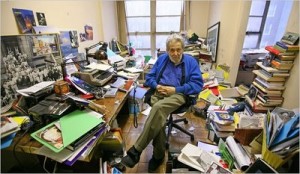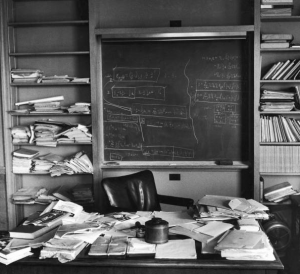 (William F. Buckley) ( (Nat Hentoff) (Albert Einstein)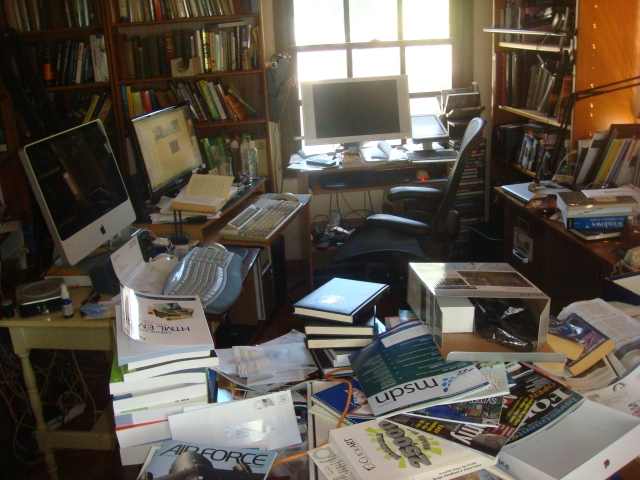 Chaos Manor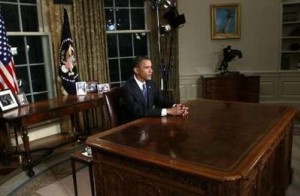 Need we go any further...........geez
Perhaps not strictly fair, but...
==============
Subj: Corruption: Middle East meets West
From Professor Bernard Lewis, _Faith and Power_, p. 141:
>>In democratic corruption, you make money in the marketplace, and you use that money to buy power; in Middle Eastern corruption, you seize power and use the power to make money. ... In Israel, one sees an interesting compound, reflecting the mixed cultural heritage of the country, brought by Jews who came from both the Christian and Islamic worlds, and who brought some of the ways of those worlds with them.<<
Rod Montgomery==monty@starfief.com
=============
Sounds like a bit character from one of your novels
Jerry:
Ran into this post -- a history professor, ex-USAF -- via another link; words fail me:
http://www.huffingtonpost.com/william-astore/
our-militarys-disturbing_b_664543.html
"A subtle change has been happening right before the eyes of Americans. Our troops are being told they're no longer primarily citizen-soldiers or citizen-airmen; they're being told they're warriors. Indeed, they're reminded of this linguistic turn in "creeds" that many of them (and often their families) display with pride."
The horror! Of course, as a Navy brat and the father of an Iraq-vet Marine, my first response is, "Well, yeah, that's the Air Force for you," but that slanders a lot of brave men and women in the USAF. Sheesh.
Here's where I got this link from:
http://theothermccain.com/2010/07/30/
william-astore-makes-lindsey-graham-sound-macho/
. ..bruce..
-- Bruce F. Webster
Don't know what to tell you...
==============
Rolling Thunder Tribute
(Be certain to watch both the short videos - how does this Marine do it?)
For those of you who are not familiar with "Rolling Thunder," every year on the Sunday before Memorial Day, 3,000 veterans on motorcycles, hundreds of which rode completely across the country, LA to DC with "Ride for the Wall" leave the Pentagon, pass Arlington Cemetery and parade through Washington DC straight down Constitution Ave.
It is a tremendously moving experience. Absolutely fantastic. It is estimated that 3 Million people, families, veterans, bikers, and folks of all kinds pack Washington DC over the Memorial Day Weekend for this event.
There is something else that also is very special about it.
One Marine, referred to as the saluting Marine, stands there on Constitution Ave and salutes at attention for three straight hours and never drops his arm. It was 92 degrees there on Sunday.
That has to kill your arm standing at present arms for three solid hours. The heat must be unbearable in dress blues. He did take a drink of water with his left hand, but never dropped his right.
George W Bush used to meet every year with the leaders of Rolling Thunder before the parade began.
President Obama does not.
http://www.youtube.com/watch?v=0gfnmDGk0KM&feature=related
The following video is of SSgt Chambers talking on why he renders the honors to the Rolling Thunder.
http://www.youtube.com/watch?v=62br6dtd6yQ&NR=1
Do not go where the path may lead, go instead where there is not a path and leave a trail-Walt Whitman
=============
Shocking
Jerry,
This is too much:
So much for transparency.
Under a little-noticed provision of the recently passed financial-reform legislation <http://www.foxbusiness.com/topics/politics/financial-reform.htm> , the Securities and Exchange Commission no longer has to comply with virtually all requests for information releases from the public, including those filed under the Freedom of Information Act.
The law, signed last week by President Obama, exempts the SEC from disclosing records or information derived from "surveillance, risk assessments, or other regulatory and oversight activities." Given that the SEC is a regulatory body, the provision covers almost every action by the agency, lawyers say. Congress and federal agencies can request information, but the public cannot.
http://www.foxbusiness.com/markets/2010/07/28/
sec-says-new-finreg-law-exempts-public-disclosure/
Yeah, let's give the people who slept through the sub-prime scandal while banks loaned to unqualified buyers. Can me crazy, but having Congress Critters who don't read the laws they pass making sure everything is copacetic twixt the SEC and the public seems less than comforting. Can't have those terrorists making freedom of information act requests, can we? The words "little-noticed provision" seem to be coming up a lot lately and I suspect we'll be hearing those words for the next few decades. *groan*
-- BDAB,
Josh
"Men stumble over the truth from time to time, but most pick themselves up and hurry off as if nothing happened." —Winston Churchill
"The opinion of ten thousand men is of no value if none of them know anything about the subject." —Marcus Aurelius
But this is to become the most open Administration in history.
==========
Hot fudge sundae falls in 2182 (0.05%)
Jerry,
Hot fudge sundae falls in 2182 (0.05% probability of impact)
http://www.foxnews.com/scitech/2010/07/28/
massive-asteroid-hit-earth-warn-scientists/?test=latestnews
Quoting: http://www.space.com/scienceastronomy/
dangerous-asteroid-impact-earth-2182-100727.html (no text differences)
Jim
=============
SUBJECT: Training a Robot to flip a pancake.
All that is missing is the robot swearing in the initial trials!
http://thereifixedit.com/2010/07/23/
white-trash-repairs-first-pancakes-then-the-world/
Cheers,
Mike Casey
=================w
f
g


The current page will always have the name currentmail.html and may be bookmarked. For previous weeks, go to the MAIL HOME PAGE.
FOR THE CURRENT VIEW PAGE CLICK HERE
If you are not paying for this place, click here...
IF YOU SEND MAIL it may be published; if you want it private SAY SO AT THE TOP of the mail. I try to respect confidences, but there is only me, and this is Chaos Manor. If you want a mail address other than the one from which you sent the mail to appear, PUT THAT AT THE END OF THE LETTER as a signature. In general, put the name you want at the end of the letter: if you put no address there none will be posted, but I do want some kind of name, or explicitly to say (name withheld).
Note that if you don't put a name in the bottom of the letter I have to get one from the header. This takes time I don't have, and may end up with a name and address you didn't want on the letter. Do us both a favor: sign your letters to me with the name and address (or no address) as you want them posted. Also, repeat the subject as the first line of the mail. That also saves me time.
I try to answer mail, but mostly I can't get to all of it. I read it all, although not always the instant it comes in. I do have books to write too... I am reminded of H. P. Lovecraft who slowly starved to death while answering fan mail.
Search engine:
or the freefind search
If you want to PAY FOR THIS PLACE I keep the latest information HERE. MY THANKS to all of you who sent money. Some of you went to a lot of trouble to send money from overseas. Thank you! There are also some new payment methods. I am preparing a special (electronic) mailing to all those who paid: there will be a couple of these. I have thought about a subscriber section of the page. LET ME KNOW your thoughts.
.

If you subscribed:

CLICK HERE for a Special Request.

If you didn't and haven't, why not?

If this seems a lot about paying think of it as the Subscription Drive Nag. You'll see more.

Patron Subscription:
Search: type in string and press return.
For platinum subscription:
For a PDF copy of A Step Farther Out:
= = = = = = = = = =
For a Regular Subscription click here:
= = = = = = = =
Strategy of Technology in pdf format:
To order the nose pump I recommend, click on the banner below:
Entire Site Copyright, 1998, 1999, 2000, 2001, 2002, 2003, 2004, 2005, 2006, 2007, 2008, 2009, 2010 by Jerry E. Pournelle. All rights reserved.