Thursday, March 13, 2008

0025: Sable and I have just returned from our 2330 walk. While out I managed to get the iPhone connected to the local T-Mobile Hot Spot (the Starbucks at Ventura and Vantage) but it was a pain in the arse to do. Apple does NOT play nice with T-Mobile. Windows. With Windows, you just log in once with user name and password, and from then on and forever when you turn on wireless in range It Just Works. With iPhone or the MacBook Air, it makes you log on every darned time, and worse, it often displays imbecile screens like "You are attempting an unauthorized service." Of course a call to T-Mobile reveals that I certainly do pay for that service and have done so for a decade, and they can't explain it, but it happens a lot.

I also get logged on to T-Mobile Account Manager, which is fine, and tells me my account is up to date, but when I try to Google my way to my own web site, I find I am not really connected to the Internet. And I have to try to log in again, only Safari doesn't have the controls that Internet Explorer does, and keeps offering me options I don't want.

But eventually I managed manually to type in a URL for the T-Mobile login screen, and enter my user name and password, and get on, and with luck the iPhone will remember that; we'll see. I doubt I'll have luck on that.

But for the moment I think both the Air and the iPhone know how to find T-Mobile Hot Spots. I sure hope so.

Otherwise it was an uneventful two mile walk.

================

Earlier tonight we watched the 10:00 PM LAW AND ORDER, with Lara Flynn Boyle as guest star. She was good as always. Back about the turn of the century, perhaps before, she and her mother lived three houses down from us. She was always pleasant if a bit driven. Her mother was a very good neighbor and became friends with everyone. As Lara's fortunes waxed she and her mother bought a larger house in Sherman Oaks, and I am not sure I ever saw her again. Her mother used to come around to keep up with local friendships, but of course less often each passing year, and it has been three or so years since I saw her. But they were pleasant neighbors. I think they lived in the house that Jamie Farr used to own before he put on a dress and got rich and moved to Hidden Hills, but I may be mistaken. I know which house Jamie lived in because I used to visit him and play cards with Jamie and Mr. Checkov, and our kids played T-ball at the local park. I never visited Lara Flynn Boyle at home.

=============

I have very sore ears, a sore throat, and I doubt I will sleep, but I hope that my 2 mile hike with Sable will help me get to sleep. I certainly have all the classic symptoms of radiation sickness. Not much to be done about that... They'll keep zapping me.

==========

0600 Sleepless in Studio City

Tinnitus medium, not at loud as when I went to bed. Installed Office 2007 on the MacBook Air, and I'll put it on Imogene shortly. No problems with installation.

Installed Turbo-Tax on the Vista machine. The execrable Vista will not recognize any of my DVD drives as CD drives, and thus would not install; so I shared an XP drive, mapped to it on the Vista machine, and installed using a networked CD. Vista is not really ready for prime time, and nothing I can do will get it to believe that either a read only drive, or a perfectly good Plextor R/W drive, is also a CD drive. DO NOT "UPGRADE" your XP machine to Vista!!!!

Turbo-Tax did install, in the Turbo-Tax folder, and upgraded, but when I launched it, it did not look to see there were previous year folders in there; I don't seem to see how to make it go get all that information, but it's probably just me, and I'll get it to do that next time I try. I really want it to import all the old stuff.

My problem may be that I spent too much money. I bought Home & Business, which is a step up from Premier. In the past I bought Premier. I'm sure I'll get this to work, but I'm not all that happy with their integration. I am sure that last year it went back and found the previous year automatically.

==============

<http://www.nytimes.com/2008/03/13/world/europe/13weizenbaum.html>

- Roland Dobbins

I knew him, not well, and had a debate with him at the AAAS meeting in Houston. That was back when Margaret Meade was President of AAAS, and everyone was sure that a New Ice Age was coming. It may even be the meeting at which I took the picture of Stephen Schneider and Margaret Meade that was used on the inside flap of Schneider's The Genesis Strategy and in promotions of the book.

Joe wrote a program called Eliza, which did Rogerian psychotherapy. This was all new in those days, and it impressed many people, but it was a pretty simple program. Some years later I was called in to teach the Scholar/Lecturer Seminar program for outstanding high school graduates at the University of Oklahoma. I was brought in at the last moment to replace someone, possibly Joe Weizenbaum, who had been scheduled to conduct the week long class for some 30 selected graduates about to enter University.

Joe's book had already been selected as one text. I was able to add another, C. S. Lewis The Abolition of Man, since it was pretty clear that the previous instructor had intended the seminar to deal largely with the notion of artificial intelligence and some epistemology, and I wanted to add a different viewpoint. I also assigned Aristotle on epistemology. If we're going to talk about intelligence, it may help to understand why we think we know things. And I was able to bring in the late Dwight Swain, then resident in Norman, Oklahoma, to do a guest lecture. Everyone in that seminar wanted to know about making a living at writing, and there never was anyone better at explaining that.

Eliza was a BASIC program. At one time I had a program called Analiza, which was an expanded program with similar effects; Analiza allowed you to set up a data base of comments and remarks which would be inserted into the conversations until used up, thus changing the "therapy session." Those not familiar with Eliza won't understand, I suppose.

So long as one stuck to psychobabble questions, Eliza could sound eerily like a modern psychotherapist, but if you wanted to complain about your lost luggage, being asked "What would it mean to you if you found your luggage?" would be pretty infuriating...

Joe Weizenbaum, RIP

==================

I once went through your archive looking for books of the month and compiled a list of the history-related books. Since I read that you were trying to compile a similar list, I thought Iíd send the one I compiled from your site:

1. The Battles That Changed History by Fletcher Pratt
2. The Shield of Achilles by Philip Bobbit
3. From Dawn to Decadence by Jacques Barzun
4. Carnage and Culture by Victor Davis Hanson
5. What Went Wrong by Bernard Lewis
6. The Closed Circle by David Pryce-Jones
7. Napoleon by Paul Johnson

Maybe the above list can help jumpstart your efforts! And I do hope you continue to progress with your health.

Sincerely,

Jim Laheta

Add

8. Van Loon, The Story of Mankind, another synoptic history.

All those are worth reading. Pratt is the best synoptic history of the West that I know.

=============

It is Allergy Time! Be sure to get the Health Solutions Nose Pump! I need mine badly after my morning walk this morning. If you are still on drugs, try this!!!
==============
And thanks again to all who have subscribed or renewed recently.
=================
Apple iPhone (and all Apple for that matter) does not play nice with T-Mobile. Last night at midnight I managed to get the iPhone connected to the T-Mobile hot spot at the local Starbucks. This morning we walked past. The iPhone connected to the Wi-Fi -- but then Safari demanded user name and password.
Windows doesn't do that. Once you get logged in and everything established it automatically takes care of that next time it sees the Hot Spot. The iPhone wants you to log in every time and worse, it doesn't work well. It's hard to do. My advice is FORGET T-MOBILE if you use Apple. Tell it to FORGET the T-Mobile Wi-Fi and rely on AT&T data connection. It will be a LOT faster.
Also, the iPhone Safari controls are not well thought out. It's very hard to go back, refresh, or just DUMP a site and start over. At least I haven't learned how to do that very well; but I think the controls are well thought out.
==============
1305 Back from the Noon Zapping. Ran a bit late today because one of the big X-Ray machines (not mine) broke down. Everyone still cheerful and all well. After long zap -- I counted to over 30 today, 20 is more usual -- the tinnitus in my right ear has really taken off, and it's hard to hear.
Subscriptions and renewals seem to be slowing down. They were coming in fast last week and first part of this week. Oh. Well. A lot of people renewed for the year last month, so I should expect things to slow with renewals. New subscriptions will have to take up the slack. And of course there are the Platinum Subscriptions. The goal is 1,000; alas we haven't yet got the first 100, but it's early times. I'll work up some new buttons and such when I get a bit of energy.
The MacBook Air continues to work wonderfully well. I was able to use it in the waiting room with Office 2008, which is significantly better than Word 2004 as far as I am concerned. It looks very nice, and runs well, and I was able to do some work.
I took Sable for 2 miles this morning, then off to The Groom Room (Magnolia at Whitsett) where they treat her very well and get her clean, fluffed up, combed, and dry. I'll pick her up at 1400.
And I owe you a good essay on the economy, which is in very big trouble. I can still think. My problem is the energy levels, but I've got enough. It just takes longer, and it's not much fun having my eyes focus on planes about 4 inches apart. Sigh. But I do manage.
=================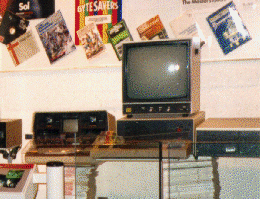 Here is Zeke at the Smithsonian.