Chaos Manor View, Sunday, June 14, 2015
Roberta's Birthday
Happy Birthday!
Flag Day

Today is Roberta's birthday. Yesterday we went to Costco and got the earphones tuned, which seems to work better in some ways – less background noise — and not so good in others. I have ordered a gizmo that feeds the input from an external microphone directly into the hearing aids. We'll see how useful that is. I heard most of the table conversation at breakfast this morning, and even some of the Lessons, but it needs improving.
Something else that needs improving is mu typing skill. I am probably converting to hunt and peck two finger typing and even that is slow and sloppy, every sentence no matter how carefully typed requiring a half dozen corrections, causing a very big slowdown. It may be getting better, but it's slow. One danged thing is hitting a key, Id guess ALT and some other, maybe A, that stops the process until I use the blasted mouse to move the cursor back to the end of the line and click; I cannot ignore it and fix later as I try to do with words that have numbers or extraneous letters in them. But I am slowly learning to produce text. After all four pages a day is at least two books a year, as I once told David Drake. And auto correct works in Word pretty well, although not so good in Live Writer.
More later. We're having a birthday party.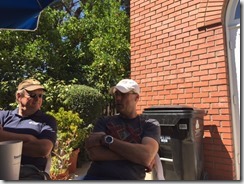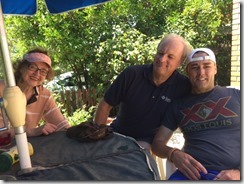 Mom, Alex, and Frank out on the front patio.

http://www.washingtonpost.com/blogs/the-switch/wp/2015/06/12/smartphone-thefts-are-way-down-heres-why/

Smartphone thefts are way down. Here's why. (WP)

By Thad Moore June 12 at 9:28 AM

It's a tough time to be in the business of stealing smartphones.

Apple started letting users clear their data and disable their iPhones remotely in 2013 with its "Find My iPhone" feature, and Android is expected to roll out the function soon. That makes it harder for thieves to do much with a stolen smartphone: If it doesn't work, it's not worth an awful lot on the black market.

Now, that technology appears to be turning away would-be thieves: A third fewer Americans say they had phones stolen last year compared to 2013, according to a Consumer Reports study released Thursday.

An estimated 2.1 million Americans had their phones stolen last year, down from 3.1 million in 2013.

The magazine says it tweaked its methodology in the latest study, which could account for some of the change, but that the overall change is still significant.

That's what prosecutors and policymakers hoped for as they've pushed for so-called "kill switches" to become standard in smartphones. The issue has inspired legislation in Congress (though it hasn't moved out of committee) and laws in states such as Minnesota and California, particularly as phone thefts soared in recent years. The number of Americans whose phones were stolen doubled between 2012 and 2013, according to the magazine.

Those laws concerned privacy activists, who said kill switches could be used improperly, especially if wiping a stolen phone becomes compulsory. They worry that law enforcement agencies, for example, could abuse such features when targeting a suspect.

In a statement, New York Attorney General Eric Schneiderman said his office planned to keep pushing phone makers to make the technology standard.

"This new report confirms what our office found earlier this year: the introduction of 'kill switches' in cell phones – resulting from pressure brought by my office, the San Francisco DA, and countless law enforcement officials and consumer advocates who joined the coalition – led to a staggering drop in smartphone thefts," Schneiderman said in a statement.

Kill switch advocates like Schneiderman will be eyeing Android's new Lollipop 5.1 operating system when it rolls out later this summer to see if the function is headed to Android phones.

But as Consumer Reports' Calla Deitrick points out, even if it does, it might take a while for the technology to get to all users.

"Given the helter-skelter, one-off approach phone companies take to their mobile operating systems, however, it will be a long time before a kill switch comes to all Android models," Deitrick reports.

http://www.usatoday.com/story/tech/2015/06/12/ilm-creates-xlab-for-bring-virtual-reality-to-movie-experience/71064884/

Industrial Light & Magic wants to bring virtual reality to the movies (USA Today)

Marco della Cava, USA TODAY 12:29 a.m. EDT June 12, 2015

SAN FRANCISCO — Industrial Light & Magic is taking the notion of DVD-extras to a whole other galaxy.

The special-effects company, which was founded 40 years ago this summer by George Lucas to create the illusions for Star Wars, will announce Friday a new team dedicated to bringing virtual- and augmented-reality experiences to the movies.

ILM's Experience Lab, or ILMxLab, will combine the technical assets of ILM, Skywalker Sound and Lucasfilm to create immersive experiences that allow fans to participate in their favorite movie worlds.

Although video games pegged to movies have promised a similar experience, this new tech will be different: non-competitive and using photo-realism rather than animation.

The division's debut products will be Star Wars-based and debut later this year. The company is also working with other filmmakers to bring their projects into the virtual space. Disney, which bought Lucasfilm in 2013 for $3 billion, may use the resulting assets for everything from marketing to theme park attractions.

"ILMxLab is all about us leveraging our skills across all platforms," says Lucasfilm President Kathleen Kennedy. "It's the Wild West out there with new frontiers, and we're all figuring out these new tools. Today, technology is in search of content. But we can bring an emotional experience to that technology."

ILMxLab's next-gen entertainment mission comes at a time when the U.S. special effects scene – which pioneering ILM once dominated to the tune of 16 Oscars – faces increasing challenges from rival companies in Europe and Asia that benefit from tax incentives.

"The period of American technological superiority in the movie business is gone," Lucas told USA TODAY in an interview. "You can get the same technology and people anywhere in the world now."

Enter ILMxLab, which is testing a variety of iPad- and Oculus Rift-based technology that allows movie aficionados to enter specific scenes of a movie and navigate through them at will. ILMxLab executives say the tech is most likely to make its debut in association with J.J. Abrams' Star Wars: The Force Awakens in December.

"What we're aiming for is to open the two-dimensional world of the movies and allow fans to walk into those worlds with the same visual fidelity," says John Gaeta, ILMxLab's creative director. "All that George begat caused a reassessment of innovation from movies to video games. The next 40 years of ILM is about exploding that universe with tech once again. xLab is as attuned to Silicon Valley as it is to Hollywood."

In an exclusive demo for USA TODAY, Gaeta fired up a Star Wars-inspired scene where R2D2 and C-3PO are hiding from Storm Troopers in a dusty village. Instead of just watching the scene on a screen, a visitor holding an iPad can turn 360-degrees and see all around the main characters' world.

One room over, the same scene is played on a monitor while a visitor pops on a pair of Oculus Rift virtual-reality goggles. This time, the point of view is from on board an X-Wing fighter jet, which not only flies around the village but also responds to banking commands with head tilts.

The difference between a video game and ILMxLab's world are immediately apparent. Rather than the goal being beating a rival, the end game is to put the viewer inside the movie in order to explore story lines perhaps not pursued by the director in the feature film itself.

Says Kennedy: "With image-quality rivaling film, you'll be able to literally step into an alternate reality."

The speed and realism of the ILMxLab demo wasn't possible just a few years ago, but the combination of equipment such as tablets and VR goggles and the ability to store and stream massive data files in the cloud have changed the equation.

"Apple, Google, Intel, they all have moonshot projects around AR and VR, but they're still just figuring it out," Gaeta says. "Our standards for world-building are very high, and we intend to use our technology to give people experiences that they haven't yet dreamed of."

















Freedom is not free. Free men are not equal. Equal men are not free.