View 812 Monday, February 24, 2014
We had to take Sable to the vet for the last time. She won't be coming home. And I have some medical stuff at Kaiser.

Sable was our Red Siberian Husky, born on September 11. 2002, and brought home to Chaos Manor when she was five weeks old. She fit in immediately. She was the most beautiful dog we have ever had, and the smartest. She was like all Huskies, cooperative more than obedient. She was never vicious but she did have the pack dog attitude of testing her place in the pack from time to time.
A year ago last November she got cancer, and was given a few weeks to live, with the possibility of a couple of months if we let them cut her right foreleg off.  She would have been miserable, and we decided to keep her intact and give her as good a life as possible. We expected that to be a few weeks. Every day was a gift, and until last week she was mostly a happy dog, content to go on short walks, and to sit with us in the evenings. She was fun to be with and she was happy.  And that went on for more than a year, astonishing the vet; but eventually the cancer got to her, and she enjoyed life less and less, until she was no longer interested in eating, and couldn't even be tempted with her favorite treats.  It was time for us to do our duty to her, and we have done it.
For those who remember her:
http://www.jerrypournelle.com/images/photos2002/sable1.html is the first segment of pictures. The pictures will enlarge if you click on them. The link to the next set of puppy pictures is at the end of the first one.
I will have more to say later. It was time for her to go, and she wanted to go to sleep.

My thanks to all of you who have written about Sable. It hasn't been our best day, but we know we did the right thing.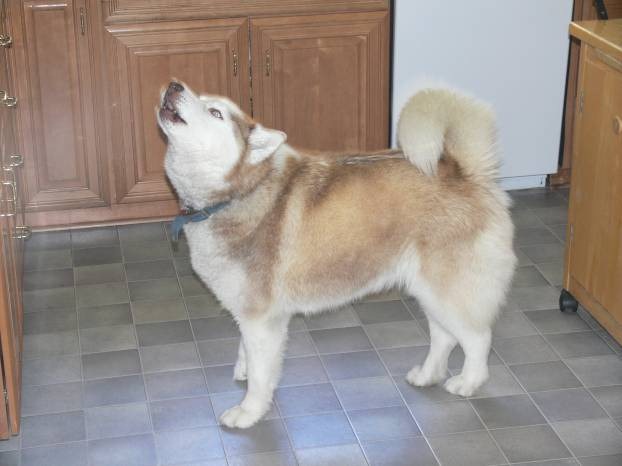 Freedom is not free. Free men are not equal. Equal men are not free.