Tuesday, March 7, 2006

Still working on the column. Apologies.

Patents are a matter of importance, as witness the huge payments RIM is making to keep the Blackberry alive.

Following is lengthy. It was forwarded to me by Richard Doherty of Envisioneering:

!20060307 Secret SBA hearing on PTO rules changes - attend and fight

This Wednesday, March 8th, from 1 to 2 PM, the U.S. Small Business Administration, Office of Advocacy, is having a 1 hour hearing on the PTO proposed rules changes. While the meeting is open to the public, that means little if no one tells the public. I couldn't find any notice of the meeting on the SBA Web site, or through a Google search.

There is an announcement - you can see it on my Web site:

www.bustpatents.com/pto-sba.doc

Since the proposed rules changes are mostly harmful to the small businesses the SBA is supposed to champion, as many people as possible should attend the meeting and express their displeasure in an effort to get the SBA to come out against the proposed rules changes.

The meeting will be held at the main SBA office in Washington, D.C., at 409 Third Street SW, in the Eisenhower conference on the 2nd floor. You can also call in for a toll-free teleconference by dialing 866-740-1260 using the access code 3311103.

The SBA has two goals for the meeting:

- obtain data to show how the NPRM, if finalized as written, will impact small entities

Unfortunately, the announcement for the meeting doesn't explain what "NPRM" means - maybe "Nutty Patent Reform Machinations". A PATNEWS reader last night emailed me: "Greg - FYI, NPRM = Notice of Public Rule Making". The other goal:

- identify regulatory alternatives that would permit the PTO to achieve its regulatory goals while minimizing the impact on small entities

Sadly, it is unlikely the SBA actually cares about this latter issue, since the SBA has never really cared about the problems small and independent inventors face at the PTO.

The meeting starts at 1PM with a few introductory remarks about the SBA's Office of Advocacy, made by Charles Maresca, Director, Office of Interagency Affairs and Carrol Barnes, Assistant Chief Counsel for Advocacy. Good people to lobby about problems with proposed rules changes.

From 1:15 to 1:50 PM, there will be two speakers. First, will be Jay Lucas, PTO Deputy Commissioner of Patents, who will laboriously waste time and go through his PowerPoint slide presentation that most life forms higher than a slime mold can read quickly to free up more time for questions.

The other speaker is Michael Messinger, director/lawyer at Sterne, Kessler, Goldstein & Fox, who hopefully will be championing small business interests.

If you are in DC on Wednesday, and can attend the meeting, please do so and let the SBA how much most real inventors hate these rules changes. If some PTO examiners can get some time off and attend as well to express examiner displeasure with the rules changes, that will help too.

Greg Aharonian Internet Patent News Service

-- Richard F. Doherty Research Director The Envisioneering Group

===========

Looking for suggestions department:

I am still experimenting with the possibility of podcasting, and one thing I am doing is assembling the equipment I may need. I now have a decent microphone and mixer, which I'll write up in the column, and for now I will use the Mac PowerBook 15 as the recording device.

What I don't have is a portable audio recording device, and I have mixed emotions as well as needs for this. For some years I carried the little Dragon Naturally Mobile unit that recorded on SmartMedia cards, but it has a limited memory capacity -- it won't see cards larger than about 8 megabytes -- and no USB port connection, and the quality isn't good. It was good for making notes, though, and I really need something that will do that. I get random thoughts and idea when walking and while I always carry some cards to write on, sometimes it's very hard to write what with Sable pulling, my hiking stick, and companions I keep waiting. Much easier to dictate a few notes and write it up in the log on getting back.

So that's the first requirement, something small I can put in a pocket along with all the other stuff I carry. It may be that the next cell phone I get will have that capability built in; there's a new Nokia coming that all my advisors tell me I will definitely want, and I believe it has a note recorder built into it.

Second requirement is Podcasting quality recording for interviews. My friend and colleague Larry Magid carries a tape recorder; it's small, and uses full sized tape cassettes because he has had bad experiences with mini-cassettes. This gives broadcast quality audio and he uses it for his CBS interviews. I have a lot of respect for Larry's judgment, and this may be the best way to go, in which case I have to do some research on just what unit to buy.

So: I think I have what I need to set up a "sound studio" here. Now I'm looking for what mobile equipment I need, and I certainly need a walking companion note recorder. I've had those over time, but they all seem to have deteriorated and it's time for something new. Advice solicited.

================

I'll have more to say about the AT&T reassembly in the column. The one thing to remember is that whatever we end up with, we have lost Bell Labs, which was one of the most valuable assets the human race ever had. Thank you, Judge Green. I hope you're proud.

Incidentally, everyone keeps telling me how much money I saved when the broke up AT&T which was certainly a stolid old gray gentleman; but when I look at my phone bill it's just as large as before and that includes one phone line on which there are NEVER any outgoing calls, but the bill has doubled in the past decade. All due to taxes and fees and the Gore Internet tax, and this and that. AT&T for all its faults had the clout to lobby against fees and taxes, and as a regulated public utility it was able to support Bell Labs without insisting that Basking Ridge be a profit center.

I realize I am probably irrational about the AT&T breakup, and yes, I remember when the Bells objected to connecting a modem to the line lest you harm their equipment and how frustrating all that was; but I am not yet convinced that the breakup and reassembly with all that money intended for investment in new channels and wiring having vanished into the corporate pockets, and now the talk about charging Google and Yahoo for "using my pipes" as the AT&T non-regulated non-public chairman put it -- I am not yet convinced that I am all that much better off.

Enough. It's time for a walk and then work on the column.

===================

Subject: Please publicize this OS X security test

Jerry,

Earlier today, there was (IMHO) a totally bogus claim of OS X being "hacked in 30 minutes". There was a challenge to hack a web site running on an OS X machine, and the challenge was quickly met. HOWEVER, the site had granted -local- account access to the challengers, not at all the same thing as hacking a web site from the outside! In response, there is another "hack this Mac" test running at http://test.doit.wisc.edu/

I would like this to do be a fair test, so if you're interested, post it on your site, and let anyone who is interested take a shot. The earlier test is linked on that page.

Chuck Bouldin

============

Subject: Credit card payment triggers DHS interest

Yikes!

http://www.capitolhillblue.com/blog/
2006/03/warning_financial_responsibili.html

"They paid down some debt. The balance on their JCPenney Platinum MasterCard had gotten to an unhealthy level. So they sent in a large payment, a check for $6,522."

"And an alarm went off. A red flag went up. The Soehnges' behavior was found questionable."

Brian

At first look this is an open and shut case of government and Homeland Security going too far; and that is how most will see it. And perhaps so, but it needs discussion, assuming that we actually take this war on global terrorism seriously.

I would resent DHS putting a hold on posting the payment, but I am not sure that notifying DHS of an unusual use of a credit card is an unreasonable war time measure. I am also unsure of the competence of the Homeland Security people to do anything meaningful with the information, but that's another story.

Wars are not lightly entered into, at least by a Republic. Empires are always at war. Frederick the Great said explicitly that the peasants in the fields and the burgers in the towns should neither know nor care if the State was at war. He hadn't quite an empire at the time, but he had aspirations. As the United States transitions to empire, we can expect to be at war at all times, and we will have enemies, some of whom have both motive and means to do us harm. We will continue to hold the government responsible for protecting us from those who want to and can harm us; which means giving the government at least some of the tools needed for this. Notification of unusual credit card activity is in fact a useful tool.

Now it takes about 2 minutes for an intelligent person to look at this case and decide that there is nothing to it; but if you insist there be no racial or cultural profiling as you collect warning signals, then there will be many more cases to investigate (yes, I know that if we allowed more attention to people named Mohammed than to Walter and Deanna Soehghe that would introduce another vulnerability and require weighted samplings and such like) and it will take more time to clear them.

I didn't want this war in the first place. I didn't even want the first Gulf War. I want us to take the hundreds of billions of dollars and invest it in energy technology and developing US energy resources. You can't tell me that it is more expensive to drill in Alaska and develop nuclear power while protecting the ecology than to send troops to Iraq and mess up the ecology something awful. Well, you can tell me that, but I don't have to believe you. But: We have the war. And if we are to fight the war, we need to give the authorities the tools to deal with that war. The way out of all this Homeland Security intrusiveness is to change our policies, get out of the war, and stop meddling in other people's affairs. While we're at it, we might think about policies that help our citizens rather than redistributing the wealth all over the world to the detriment of our own people, but that's a topic for another time.

=======

On Blackstar, boron fuels, and such like, see mail.

===========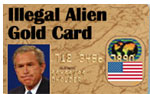 See Michelle Malkin http://jewishworldreview.com/michelle/malkin030806.php3
I no longer understand the Republican Party. Apparently they are dedicated to foreign control of everything. Is there a sane Democrat? Anywhere?
=============
There is a tribute to my favorite scholar. I don't always agree with Barzun, and his views on science are eccentric, but I can't think of anyone I'd rather have dinner with.
http://barzun100.blogspot.com/2006/03/mark-halpern.html
===============
A minor correction:
>AT&T for all its faults had the clout to lobby against fees and taxes,
>and as a regulated public utility it was able to support Bell Labs
>without insisting that Basking Ridge be a profit center.
Even Homer nods... you of course mean "Murray Hill". (Where I worked as a brash young physicist, just waiting to be anointed with the Nobel Prize. Things change...)
And it *was* a treasure of the human race, and it will never be seen again.
Basking Ridge was headquarters after they moved it out of Manhattan, and most definitely a profit center! :-)
S.
Apologies; I knew better, actually. I suppose it's important to place the headstone in the right place, but I'd rather have back the Advanced R&D Center for the Human Race. It took a regulated public utility to support a place like Bell Labs: just enough supervision to require some focus and productivity (the culture also demanded that you think up or discover something, not just waste time) without the demand for immediate profit. A government lab in theory might do the same thing, but in fact no government labs have had anything like a long time record of success. For whatever reason, it was a significant weapon in a strategy of progress, and we do not have its like. And I do not think the reanimated AT&T will be able or even desire to create it again.
=============
Let me recommend:
http://www.nationalreview.com/derbyshire/derbyshire.asp
The first part about Khrushchev is well worth your time. Then he goes to Larry Summers and Harvard and says:
The broader context here is the rottenness, extravagance, and futility of our whole higher-education system. I have this fever dream — I mean, it ain't going to happen, but I can still dream it — that the parents of America will launch a mass boycott of the whole higher-education racket, bankrupting all the colleges and wiping them from the face of the earth. To take care of the necessary credentialing, a nationwide system of baccalaureates then comes up (I'd like to keep the federal government out of this, but I think it would have to stamp its approval at some point), so that if you want a degree in, say, computer science, you study for it yourself, on any schedule you please, using public libraries and the Internet, proving your proficiency by taking some standard test open to all.
It's all worth reading. The Derb usually is.
===============
Rest In Peace, Rufo
Rufo, Rufe, Rufus T. Maximus, "Big Boy", black and grey Akita with white feet, tailtip, and throatpatch, born "Socks" in February 1993, first owned by someone who left him half-starved to DC Akita Rescue, adopted by Aleta Jackson who gave him his real name and his first good home, then "temporarily taken care of" when impossible circumstances hit Aleta in November 1995 by Henry Vanderbilt (relevant quote a few months later: "I see you two have bonded.") Rufo feared neither man, beast, nor machine - he once threatened to eat a reigning King of Atenveldt (not a post attained without considerable martial skill), he acknowledged no dog in creation as being bigger (despite the facts on occasion being much to the contrary), and he reached the end of his days without his firm position that he was also bigger than any eighteen-wheeler truck ever being disproved (largely due to considerable attention being paid by his human sidekick to avoiding tests of that theory, true.) Bluff aside (in twelve years and one month, he never laid serious tooth to any living being), Rufo was the gentlest brightest most amiable eager-to- please 3/4 inch fang 110-pound carnivore you could ever hope to meet, the world's largest fur-covered creampuff where cats, small children, and pretty girls were concerned.
Rufo had been getting gimpy and less outgoing in recent years, chiefly concerned with leisurely walks around the neighborhood and sleeping in the sun, past being up for his youthful regimen of chewing through gates, midnight sprints through the neighborhood, SCA wars and fighter practices, SF conventions, space conferences, and close to 30,000 miles of cross-country car rides (he'd hung his head out in the breeze and startled passersby in at least twenty-five of the fifty states.) He succumbed to advanced stomach cancer, giving little sign of anything at all wrong until just a few days before the end - he was always a stoic, seldom acknowledging any pain short of the overwhelming. He was amiable and affectionate right up to the end. He will be much missed.
If you never knew him, you missed one of the finer dogs that's ever been. If you did know him and have memories of him, please share them in whatever forum you come upon this. To all the people who were kind to him over the years, my heartfelt thanks.
Henry Vanderbilt 8:08 pm mst March 7th, 2006
=========