Chaos Manor View, Wednesday, November 25, 2015
We are not at war, but the situation is serious. Turkey fired first and clearly not in self-defense, so their call for a NATO convention is not likely to get the entangling alliance into a shooting war with Russia; spin and propaganda will continue.
It is becoming more clear what happened. The Turks fired on the Russian Su-24 warplane during the minute it was over Turkish territory; the missiles struck the Russian plane after it left Turkish air space and was over Syria. The Russian airmen parachuted over Syrian territory; one of them was killed in the air over Turkmen rebel-held Syrian territory as his parachute descended and his body displayed to celebrating rebels; the other was rescued by Russian and Syrian government special forces. A Russian air/sea rescue helicopter was sent to the aid of the original airmen and was destroyed by the rebels with one reported casualty.
Turkmen rebels claim that they killed both Russian airmen while they were in their parachutes, but it is reported that one survived and was rescued, and claims they were never in Turkish airspace; whether they were or not, they could not have been over Turkey for very long. http://news.yahoo.com/syrian-state-media-russian-syrian-special-forces-rescue-095540893.html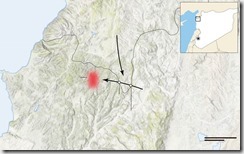 The Russians are now moving Surface to Air missile assets, both land (to be deployed at the rapidly growing Russian base in Latakia) and sea – a Russian missile cruiser off the Syrian coast – into the area. It is very likely that Russian cruise missiles will ruthlessly bombard the Turkmen areas, causing a large surge of refugees from Syria to go into Turkey. Turkey doesn't particularly want them, and will try to get Europe or the United States to accept them.















Freedom is not free. Free men are not equal. Equal men are not free.