View 762 Saturday, February 16, 2013

I have had a busy but pleasant day at Boskone, with reasonably well attended events, very long lines at the book signing event, and generally pleasant conversations including meeting a number of people I used to know quite well including some old BYTE hands. I found a Boskone suite that served me a great salad for lunch, which I much appreciated. Tomorrow I will spend part of the afternoon and possibly dinner with Marvin and Gloria Minsky. Somewhere along the line I will have to do airline checkin and print my boarding passes, and I am not quite sure how to do that, but it shouldn't be that hard to do. The hotel seems to have a printer, and while I haven't yet asked how it is used, I am pretty sure that if I print a pdf on a thumb drive they will be able to take care of it.

The meteor/meteorite event in the Urals will cause a slight rewrite in the opening of Lucifer's Anvil, but it's very much in keeping with what we have already done so no problems there.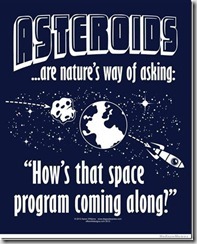 Yea, verily.
"Hows that space program coming along?"

Just a note that this illustration is getting wide notice without credit going to the artist, Aaron Williams

http://www.offworlddesigns.com/p-814-asteroids-t-shirt.aspx

There are even other people who have been selling T-shirts with his design on it.

Aaron Williams is the author of a number of great comic strips, and I'm a big fan.

Tom Brosz

It's late, and I need to get to bed. It has been a good day, made better by all the pleasant people. We seem to be sharing the hotel with some kind of dancing event involving wholesome looking young girls a little younger than my oldest granddaughter. They are all polite and quiet, perhaps more quiet and polite than a similar group in California would be. Very pleasant. It has all been a good trip.

Today brings the end of the winter pledge drive. It's still not too late. If you read this place and don't subscribe, you ought to consider subscribing. And if you can't remember when you renewed last, this is a very good time to do that. And having said that, I have to add thanks to all those who have become new subscribers, and those who have renewed. I have tried to keep up with recording them but I wasn't able to. Thanks for a great response, and I can stop bugging you until KUSC has its next pledge drive.